MOVATI ATHLETIC
LONDON - NORTH
Ready to learn more?
Join Movati and get more than just a place to workout. From our hundreds of weekly fitness classes, to our luxurious amenities, to our knowledgeable staff, to the dedicated spaces designed with your fitness experience in mind…Movati offers premium fitness at a price you can afford.
We not only want you to feel welcome, comfortable and healthy
we also want you to feel motivated.
That's why we offer such a huge variety of activities and group fitness options. There truly is something for everyone to enjoy. Below is a list of the fun, exciting and challenging activities that await you at Movati Athletic London - North.

Group Fitness
We have an incredible selection of options at our clubs, exceeding every other gym out there. From Aqua Fitness to Zumba, and everything in between, you can easily find the activity that's perfect for you. Each Movati Athletic location offers slightly different classes, so check with your local club to see what's on offer near you.

Women's Only
Your comfort at all times in our clubs is one of our main priorities. In fact, we believe feeling comfortable is absolutely essential for a good workout. That's why many of our clubs offer separate women-only studios, a women-only fitness floor and even some women-only pools, along with scheduled women-only group classes and swim times.

Cardio Training
Put your heart into it. Cardio training is the foundation of most fitness programs. It's the quickest and most effective way to burn calories, build endurance and maximize your overall fitness and health. You'll find hundreds of machines available at every one of our clubs so you can just jump right on and get running, stepping or cycling.

Strength Training
Feel the power! Weight and resistance training can help you tone, sculpt and strengthen as part of an overall fitness plan. Whatever your ability, strength training is a great way to complement cardio, flexibility and yoga training to help build muscle and lose fat.

Aqua Fitness
Dive into a great workout! Swimming and aquatic exercises are one of the most effective low-impact fitness options. At Movati Athletic, we have classes for every level of ability, from AquaFit and Family Swim times to lessons and lane swimming for adults.

Cycling Classes
Pedal your way to a healthier you! Our cycling classes will get you moving quickly toward your fitness goals. If you want to burn calories, boost your cardio and tone up with a fast-paced and fun workout, one of our indoor cycling classes is the perfect solution.

Training Solutions
If you want to see results fast, then one of our training solutions with our certified trainers could be very effective for you. Choose from fully private one-on-one sessions, semi-private (with a friend or training partner) or even small group training sessions that can help you stay motivated while also helping you stay within your budget.

Movati Café
After your workout, come and join us at the Movati Café for a full range of nutritious – and definitely delicious – snacks, smoothies and coffees. After all, you'll need to replace some of those calories you just burned off. With a comfortable and stylish lounge, our café area is also a great place for meeting friends, relaxing with a good book, or taking advantage of our free Wi-Fi. 

Squash
An excellent cardio workout, squash is a fun way to get competitive with your friends. Organize your own games or join one of our house leagues. Just remember, strategy is more important than athletic ability with squash, so this is a great activity even for beginners. We currently have squash courts at three Movati Athletic locations: Brantford, Guelph and London – North.
STUDIO FITNESS
At Movati Athletic London - North, we do group fitness like nobody else. In fact, with over 100 classes each and every week, no other club even comes close to the number and range of professionally-instructed regularly-scheduled classes we offer. And it's all included in your membership.
Whether you're already an avid enthusiast of an activity or you're just starting to get into it, you can find the class that's the perfect fit for your experience and fitness level. Most of our classes are offered in four categories: everybody, beginner, intermediate and advanced.
VIEW CLASS SCHEDULES
BOOK SQUASH TIMES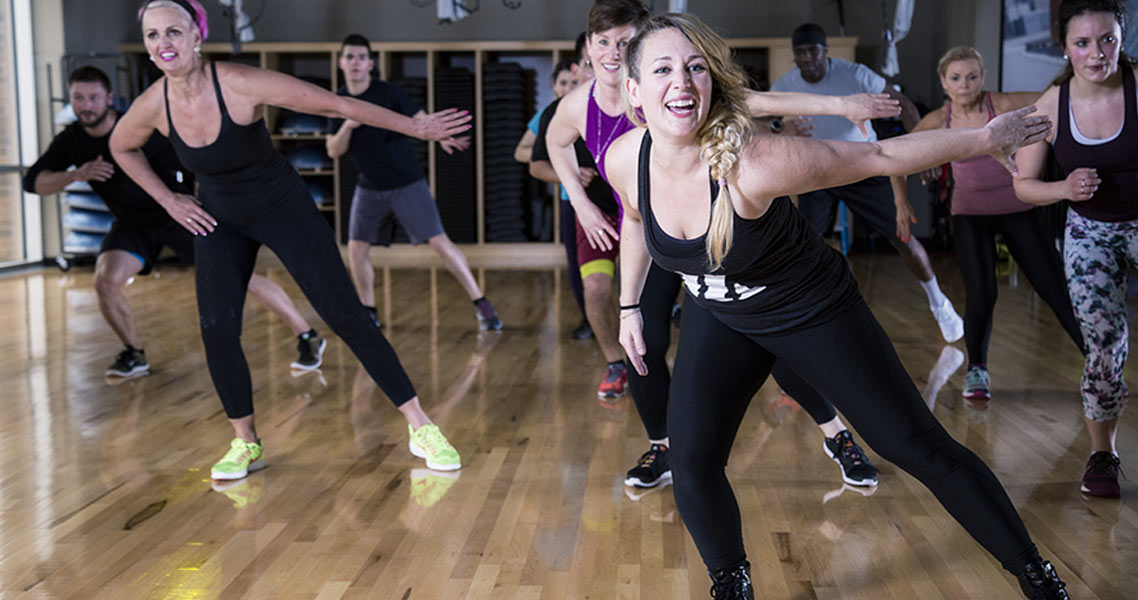 Movati London - North
Regular Hours
Monday
Tuesday
Wednesday
Thursday
Friday
Saturday
Sunday