This Mother's Day we sat down with Janicke Ziemer, who is our Talent Acquisition Specialist. Janicke is of Swedish descent, originally born in Goteborg, Sweden. She currently lives in Thornbury, ON after spending the majority of her life (20 years) in Burlington, ON has been with MOVATI Athletic for four years. She always had a passion for fitness and holds multiple certifications. On top of all this, she is a mother that shares this passion with her children.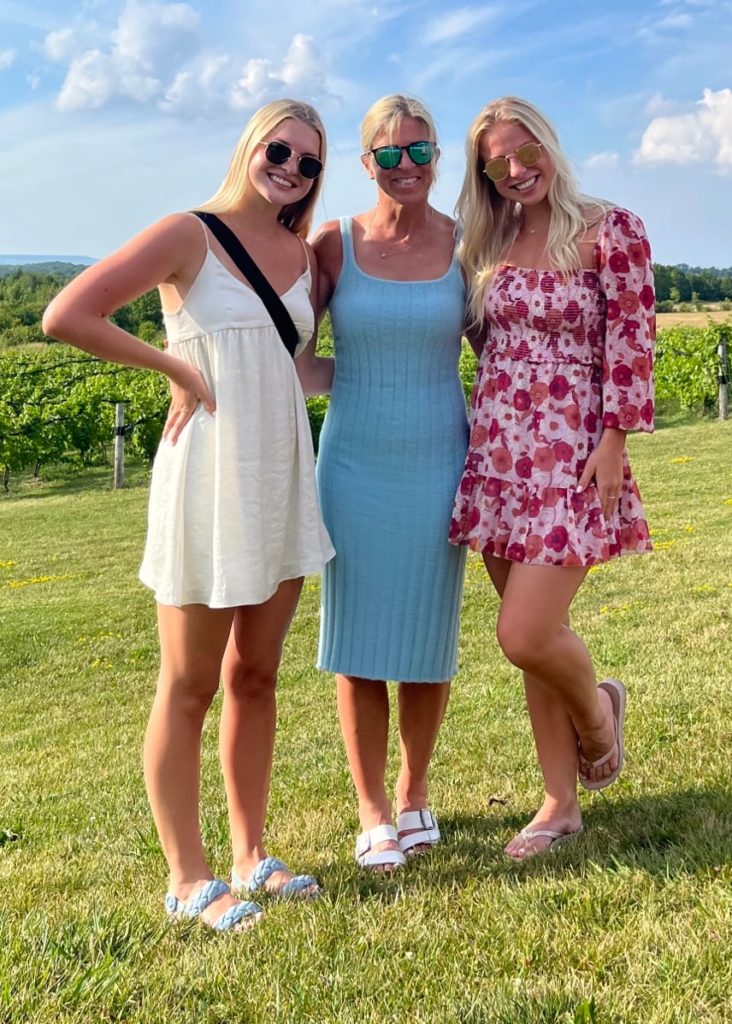 Q: Janicke, start off by telling us how many kids you have, and how often you work out with them. 
A: I have two amazing daughters. Helena 22, graduating Queens Kin this year. Ellie 20 just completed her 2nd year in Film & Media Studies at Queens. I am a Queens Kin alumni so yes all 3 of us are Queens girls!
Q: What were your daughters like growing up? Did you think they would share your passion for fitness?
A: I had to work hard keeping up with these two as they grew up!  They were 2 & 4 when they did their first 1 km running race. Both have completed many 5 km races with me, and Helena even ran the Boston marathon family 5 km! They have skied since they were 3 & 5, avid gymnasts, and figure skaters to start but competitive dance took over and they still dance together on the Queen competitive dance team. In their spare time they hiked with me! I am forever grateful they share my love for fitness and adventure!
Q: What, in your opinion, are your daughter's greatest strength or what makes them so successful?
A: Both my daughters are very driven and love to cheer each other on. I believe their biggest strength is that they truly love to help each other succeed. They are each other's biggest cheerleaders. I also love that they can be genuine and silly and laugh at themselves. They share the good and the not so good.  

Q: Mothers often talk about feeling guilty for taking time to go to the gym or do a class. What advice would you give to them?
A: I have always worked in the fitness industry, so my girls started going to the gym with me as babies.   They would enjoy the childcare at first then started doing kids programs and swimming lessons as soon as they were old enough. They always loved coming to the gym or my studio with me. I never felt guilty going to the gym because my girls were always doing something they liked at the gym or in their own fitness programs while I was working out or teaching classes. They knew the gym was my workplace and happy place. We were all happy to be at the gym! For them it was a treat to come to mommy's gym!   My advice to other moms is to take time for themselves to stay active and fit. Being active and fit is not only being a great role model for your kids but it helps you to be happy and confident which makes you a better mom!
Q: Because you are so active in the fitness community, did that play a major role influencing your daughters' passion for fitness? How do they like to stay active?
A: I believe my daughters grew up in a very active family and knew nothing else. It was our way of life, so I believe this was a huge influence on them being as active and fit as they are today. No matter how busy they are … and they are definitely busy!  They make time for fitness. Even with their busy dance and school schedules, they make a point to have a few "sister sweats" every week. I couldn't be prouder when they send me an early morning sweaty selfie!
Today they both still ski in the winter, hike up mountains, bike on the trails, dance on the university competitive dance team as well as sweat together at HIIT workouts. In the summer they work out on the beach and SUP with me which makes me more than happy!
Q: What qualities have you passed on to your daughters that you are most proud of? 
A: I am more then proud that my girls love to sweat and enjoy working out by themselves, together and with me! Nothing makes me prouder to ski, hike, workout and sup with these two amazing girls.  
Q: What is your favourite part of being a mother?
A: My favourite part of being a mom is watching my two girls grow into confident, fit, driven, successful women! And knowing that they are each other's biggest supporters!