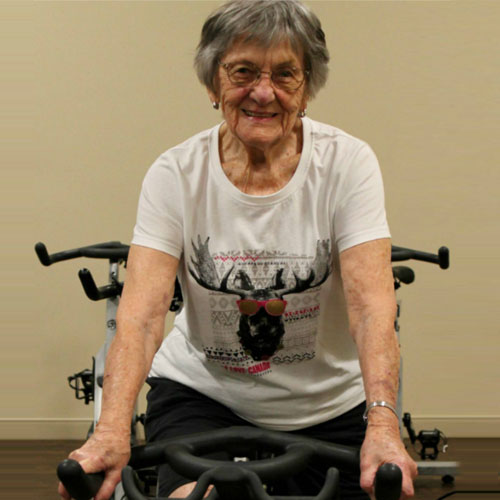 My client, Olga, is the epitome of the phrase "you are never to late to start" at the youthful age of 90 years old.  We've only been training for a short while, but in that time, she's more than impressed me with her enthusiasm and energy.  She contacted me shortly after her birthday in March as she wanted to do some personal training, she had done the same thing 10 years earlier as a treat when she turned 80, and wanted to repeat the process for her 90th.
Olga takes a shuttle to the North Club from the retirement community she lives in to attend our sessions together. My time with Olga is full of laughs and stories of her interesting past.  She and her husband (who sadly passed away a few years ago) and their out-door adventures: camping, kayaking, hiking, biking, remind me of the things I enjoy doing and give me hope and encouragement that I myself will be living life to the max, just like she does.
I often tell her I want to be just like her when I grow up, and then she gives me a wink, a smile and says she hasn't yet grown up herself.   Just what I wanted to hear.
– Tracy Weir, Personal Trainer, London North