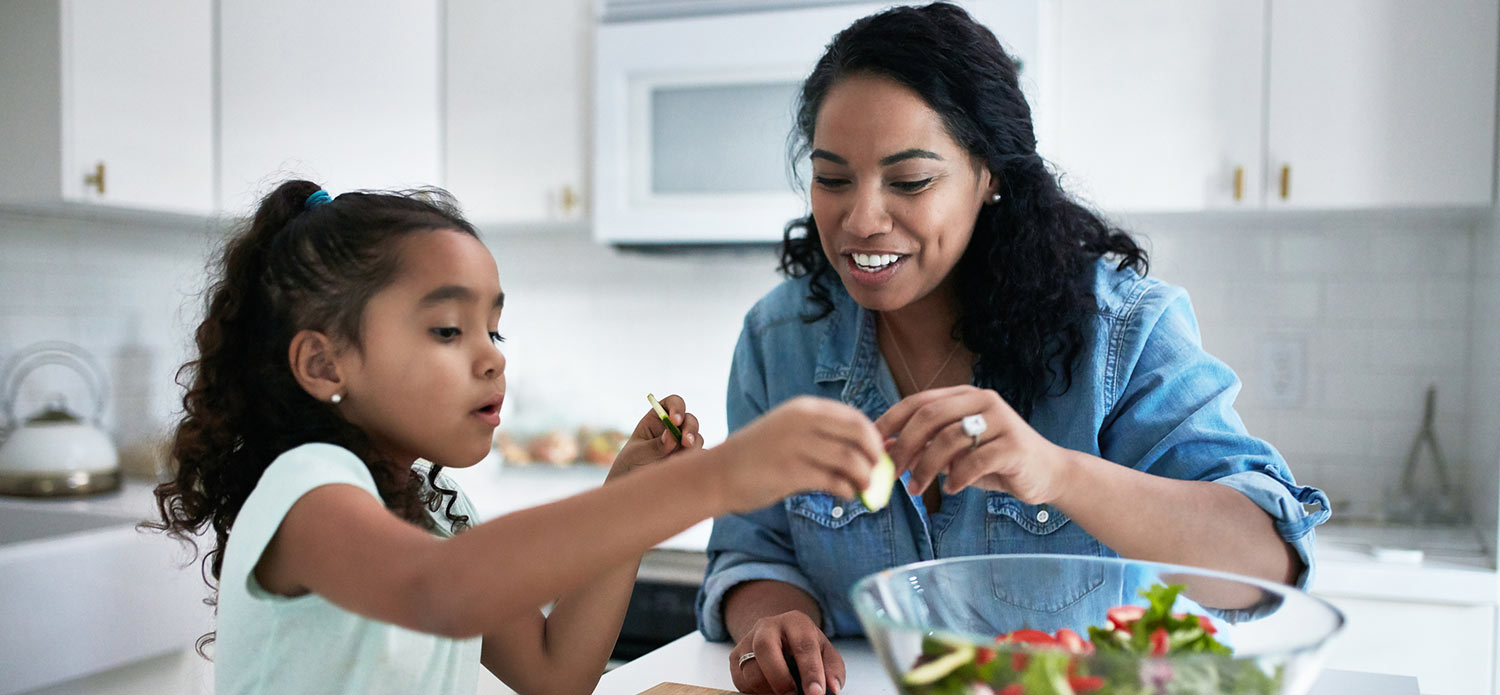 While exercise is an important component to building a healthy and strong body, maintaining a healthy lifestyle relies on having a strong foundation of positive nutritional habits. And these habits shouldn't stop even if we can't make it to the gym!
Below are a few simple suggestions to optimize healthy habits in the kitchen for you and you family. Pair this with one of our workouts [hyperlink to community page] to feel your best!
Quantity
It's easy to overeat when food is plentiful and convenient to access. The less we move throughout the day and more sedentary we become the more important portion control becomes. 
Here are a few tips to ensure you are eating just the right amount of fuel for your body:
Stay hydrated throughout the day and consider having a glass of water before every meal
Eat slowly, be attentive to the flavour and texture of the food and stop eating when you are 80% full
Using a smaller plate may help you slow down and not overestimate portions
Keep a consistent eating schedule and do not skip meals you are normally accustomed to eating

 
Quality
It's easy to eat low quality food because they are often the most convenient choice. Many of us may be trying to limit how many grocery trips we have to make so making sure we are choosing foods that won't spoil are an important consideration.
Here are a few tips to make picking healthy options a little bit easier:
Cook and then freeze your fresh food and don't fully depend on boxed and canned meals. Soup, stew and chili are easy to freeze in large quantities!
Healthy snack options include nuts, seeds, and dried berries and they will last months. These are high in omega-3 fatty acids and it's easy to create a trail mix for the whole family to enjoy.
Choose simple canned food options such as beans, tuna and diced tomatoes. Be mindful of sodium and choose the no salt added versions when available.
Dry food such as steel cut oats, healthy granola, and dried sugarless fruit can be a great alternative as well.
Although our daily lives have changed quite a bit, our bodies and our health should not take the backseat on the list of priorities. Let's keep our focus on taking care of ourselves by filling our bodies with nutrition-rich foods while keeping a social distance to help protect the communities around us.